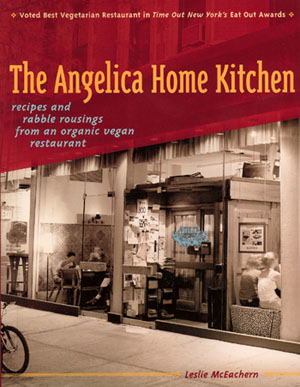 Soba sensation is a yummy heartwarming dish that everyone in the family will love! This recipe is from one of my favorite restaurants - Angelica's Kitchen in the East Village of New York City. Anyone interested in Vegan food should not only eat there, but purchase their awesome cookbook. Here's their website
Angelica's Kitchen.
Ingredients
1 clove garlic crushed
2 to 3 Tablespoons peeled and minced ginger
2 Tablespoons prepared mustard (Dijon or English)
1/3 cup brown rice vinegar
1/3 cup natural soy sauce
1/3 cup brown rice syrup (I did not have this last night but replaced it with 1/3 cup brown sugar instead)
2 Tablespoons toasted sesame oil
1 1/3 cups Tahini
1/3 cup hot water
pinch of cayenne (optional)
1 or 2 packages
Soba noodles
, cooked al dente, rinsed with cold water and chilled (the original recipe calls for one package, but if you use all the sensational sauce the noodles end up overdressed)
Process
Vigorously whisk all ingredients together in a bowl (or alternately process with an immersion blender or use food processor)
Puree until creamy.

Pour over cold noodles and toss.
Garnish with sliced scallions or shredded carrots. Other garnish recipes are available in their cookbook.