I made this last night using local Maine corn from Gillespie Farms and substituted Goat cheese crumbles for the Cojito. You can not get Cojito in rural Maine.
Rocco DiSpirito's Mexican Corn With Chili Mayo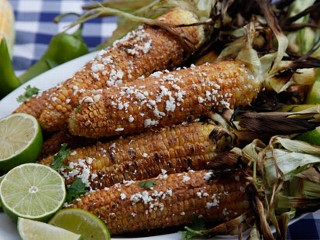 Heidi Gutman/ABC; Food Styling/Karen Pickus
Rocco DiSpirito prepares his mexican corn with chili mayo on "Good Morning America," July 18, 2011.
From the kitchen of Rocco DiSpirito
Fresh corn on the cob is so good on its own, you really don't need to do much to it. But if you want to spice up your ears a bit, try my Mexican Corn. It uses cotija cheese, know as the "Parmesan cheese of Mexico." It's a strongly flavored, crumbly cheese that's used like Parmesan in Italian cooking. If you can't find it in your supermarket, use Parmesan-Reggiano or feta instead. This recipe makes a delicious addition to quesadillas, tostadas, fajitas, tacos, or burritos. So dig in. Delicious!
Ingredients
4 ears of corn, in their husks
Butter-flavored cooking spray
1/4 cup fat-free mayonnaise
1 teaspoons chili-powder
1/2 cup (about 2 ounces) cotija cheese, grated
2 tablespoons of chopped fresh cilantro
1 lime cut into four wedges
Cooking Directions
Mircowave the corn, two ears at a time, for about seven minutes on high, turning once. Peel back the husk and test a kernel for tenderness. Microwave again for another minute if necessary.
Heat a grill pan over high heat.
Cut an inch off the top of the cobs. Grab the husk, along with the silk, and peel the husks off the cob like you would peel the skin off an banana. Continue peeling back the husk around the rest of the cob so that you create a handle with the husk.
Spray the corn with cooking spray and place on the hot grill pan. Grill until the kernels begin to develop grill marks, 2 to 3 minutes. Turn the cobs occasionally.
Meanwhile, in a small bowl, mix the mayonnaise and chili powder together. Using as pastry brush, brush the mayonnaise mixture onto each cob. Sprinkle the cheese and cilantro over the cobs.
Serve immeditely with lime wedges.
This recipe was styled by chef Karen Pickus for Good Morning America.
Recipe courtesy of Rocco DiSpirito's Now Eat This! Diet.