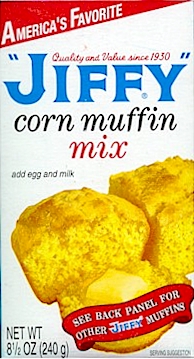 This recipe was given to me, at my bridal shower, but the mother of two of my bridesmaids. I grew up with her two daughters and was constantly at their house playing People Town. Food there was always a treat - those foods forbidden in my house like Spaghettios, Hawaiian Punch, or even sour dough rolls smothered in butter. Anyway, this simple and yummy side dish was enjoyed by all at my shower!
Ingredients
4 eggs
1 16 ounce container sour cream
2 sticks butter, melted
1 16-ounce can regular corn, drained
1 16-ounce can creamed corn
2 boxes Jiffy Cornbread mix
1 teaspoon salt
Process
Preheat oven to 350 degrees.

Grease a 9 x 13 inch baking pan or large round casserole dish.

In a large mixing bowl, beat the eggs with the sour cream and blend well.

Add melted butter and blend well again.

Stir drained corn into the egg mixture. Stir in the creamed corn.

Add salt and corn bread mix and stir well.

Pour into prepared pan and bake for 30 to 45 minutes or until it is no longer jiggly.