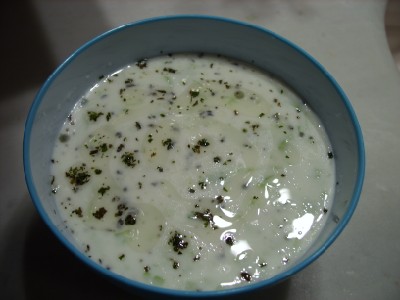 Cacik
is the Turkish alternative to Tzatziki, but it is even better for you. I origionally found this version at Whole Foods Market, but improved it according to my own tastes. It is loaded with lots of green vegetables. This dip is a delightful summer treat, particularly for those home gardeners that have lots of green vegetables ready to harvest.
Ingredients
1 bunch scallions (white and light green parts)
1 cup broccoli
1 cup spinach (steamed)
generous amounts of fresh dill
1/4 cup fresh mint
2 Tablespoons EVOO
3 cups Greek Yogurt
1 clove garlic, minced
Juice of a lemon
Salt and Pepper to taste
Process
Finely chop first 5 ingredients in a food processor. While on pulse, drizzle in the olive oil.

In a separate bowl, mix prepared garlic, and lemon juice and stir well to combine. Stir in yogurt and season with salt and pepper.

Combine the yogurt with the greens and season according to taste.

Serve with cru-de-te
* depending on what is in your garden, or the season, other greens can be used from Chard to kale or even Brussel sprout leaves.