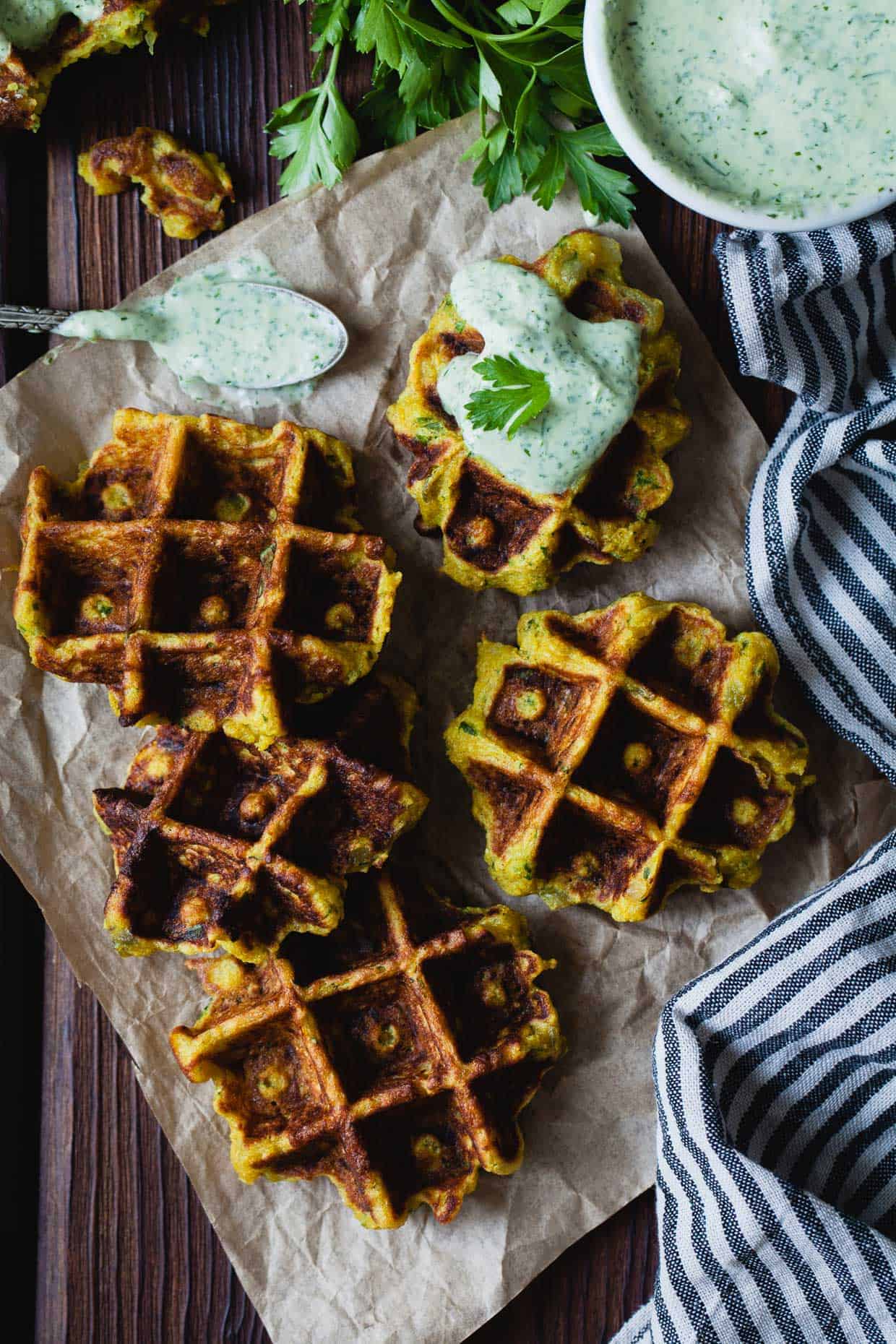 This was such an amazing meal that truly transformed the main ingredient - Spaghetti Squash! Thank you
Snixy Kitchen
- you are a wonderful find!
Spaghetti Squash Fritters with Dill Yogurt Sauce
Spaghetti Squash Fritters with Dill Yogurt Sauce
Author:
Sarah Menanix (Generously adapted from Plenty)
Yields:
About 16 fritters
Ingredients
Spaghetti Squash Fritters
1 small or ½ large spaghetti squash
2 teaspoons olive oil
3 large shallots, finely chopped
¼ cup parsley, finely chopped
½ teaspoon ground cumin
½ teaspoon turmeric
¼ teaspoon ground cinnamon
1 teaspoon sugar
½ teaspoon salt
1 egg white
½ cup chickpea/garbanzo flour
3 tablespoons sweet rice flour
2 tablespoons tapioca starch or flour
1 tablespoon baking powder
1 egg
½ cup whole milk
3 tablespoons unsalted butter, melted
Dill Yogurt Sauce
¼ cup greek yogurt
¼ cup sour cream
½ cup packed parsley
2 tablespoons fresh dill
1 tablespoon fresh lemon juice
1.5 tablespoon olive oil
1 clove garlic
¼ teaspoon salt
Instructions
Spaghetti Squash Fritters
Cook the spaghetti squash. Prick the squash with a fork several times. You can roast the whole pricked squash at 375°F for about 45 minutes to an hour, until tender. Alternatively, you can wrap the pricked squash in parchment paper and microwave it for 15-20 minutes, until tender. When the squash is tender, slice it in half lengthwise and use a fork to scrape out 2 cups of filling. If the filling is super moist, let it sit in a fine mesh strainer while you cook the shallots.
Heat the olive oil in a pan and cook the chopped shallots until tender, about 5 minutes. If you're roasting the squash, you can also roast the shallot whole and then peel and chop it when it's tender.
Combine the 2 cups of squash, cooked shallots, parsley, cumin, turmeric, cinnamon, sugar, and salt in a large bowl.
In the bowl of a stand mixer fitted with a whisk attachment, by hand, or with a hand mixer, whip the egg white until soft peaks form. Gently fold the egg white into the squash mixture.
In another bowl, mix together the chickpea flour, sweet rice flour, tapioca starch, and baking powder.
Add the egg, milk, and butter to the flour and whisk to combine.
Gently add the batter to the squash mixture and stir to combine.
If using an electric waffle iron, cook small waffles according to manufacturer directions, lightly spraying the iron with canola oil.
If using a stovetop waffle iron, be sure to heat up both sides for at least 3 minutes on medium heat. Lightly spray the top and the bottom of the waffle iron with canola oil. Pour scant ¼ cup of batter into each section of the waffle iron and cook for 2-3 minutes. Flip the waffle iron and cook for another 2-3 minutes. Gently open the waffle iron to check the waffle and, if needed, continue cooking until both sides are crispy. (Every stove is slightly different, but mine is ready after 2.5 minutes both sides).
Use a chopstick to help you gently remove the waffles from the iron and transfer to a plate while you finish cooking the batter. The outsides should be crispy and the insides will be soft and moist.
If you don't want to use a waffle iron, you can cook the fritters over medium heat on a griddle. Scoop ¼ cup of batter onto the griddle and cook for 2 minutes on each side, until crispy on the outside, but still soft on the inside.
Serve waffles with dill yogurt sauce (below). Store leftovers for up to 3 days in an airtight container in the refrigerator and reheat in the toaster.
Dill Yogurt Sauce
Combine all of the ingredients in a blender or food processor and pulse until smooth.